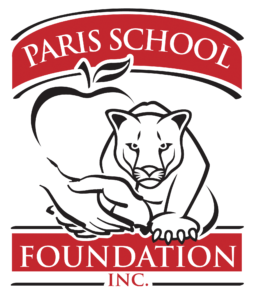 Upholding quality education in our community!
The Paris School Foundation is a great way to support our kids and classrooms. Established in 2009, the Paris School Foundation (PSF) is a registered 501(c)(3) nonprofit organization whose mission is to foster financial support for education in our community to uphold academic advantages, enrichment opportunities, and a positive and safe learning environment for Paris School students.
Past PSF funding initiatives include installation of a limestone walking track around the perimeter of the Paris School grounds, purchase of Makerbot 3D printers for student use, funding of Osmo iPad technology in classrooms, purchase of classroom laptops, curriculum enhancement funding for teachers, support of school safety and sanitation, and more! In addition, the Paris School Foundation works cooperatively with the Paris School Organization for annual fundraising needs..
The Paris School Foundation is an easy, tax-deductible avenue to support Paris School. Whether a one-time contribution, annual designation through corporate giving, or a donation in memory of a loved one, your commitment will directly benefit Paris School kids and classrooms!

LIKE us on Facebook @ParisSchoolFoundation
Please contact a PSF board member to discuss current funding needs and upcoming initiatives:
President
Tanya Fleege
847-363-5230
Fleegefam@gmail.com
Vice President
Bryan Hammond
262-620-3598
Bryanhammond@camosy.com
Treasurer
Krista Weis
262-620-0064
Krista.w0405@gmail.com