Paris School: The heart of our community since 1949!
We take pride in our unique and longstanding history: our school has roots that reach back for generations! Education in Paris township began in 1842, the year the Town of Paris was established. For the next 104 years, thirteen one-room schools dotted the neighboring countryside. When five schools remained, the Paris School Board voted to sell three older schools at auction. The profit from this sale was placed in a fund that eventually led to the construction of a single, centrally-located school.  In 1946, Paris Consolidated Grade School Joint District No.1, was formed and the opening of Paris Consolidated Grade School followed in October 1949. Hailed by the Kenosha News as "…Kenosha County's first consolidated rural school," the new building housed three classrooms, a cafeteria, an office, and a boiler room. Three additions, a renovation, and many building improvements later, Paris School still proudly stands as the heart education in our community.
Still today, we retain the values rooted in our quaint history: Work hard. Do
your best. Be kind. Be helpful. Share. These simple tenets help our school stand above the rest. By keeping things simple, we keep kids comfortable and engaged. Our peaceful and safe environment produces superior results, outstanding attendance, and extraordinary conduct. And, best of all, Paris School students think it's cool to be smart!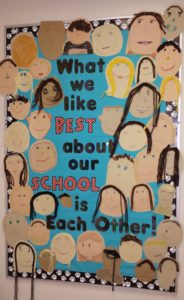 We invite you to take a personal school tour to see firsthand why generations of families call Paris School their own!